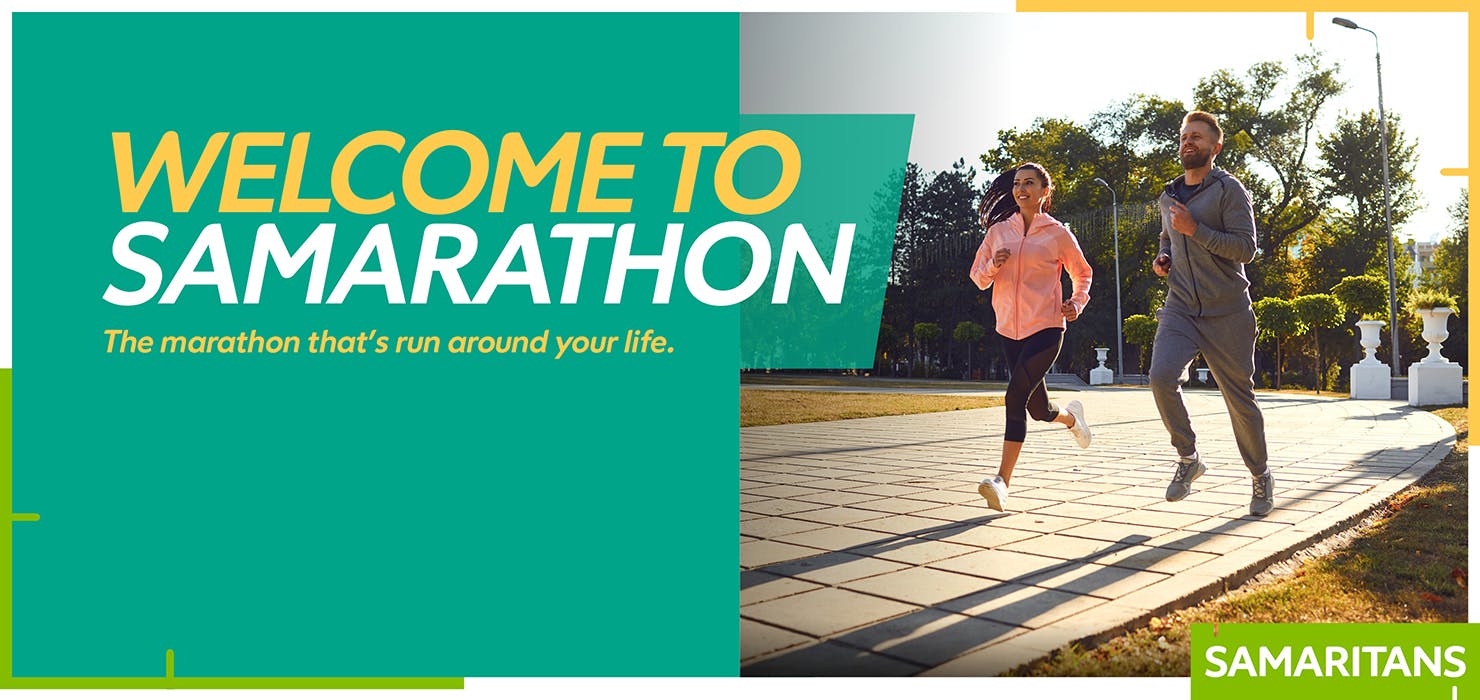 Frequently Asked Questions
Event Registration and Fundraising Page Information
Samarathon is a month-long virtual marathon challenge for Smararitans. Participants are challenged to walk, jog or run a marathon distance, 26.2 miles, over the 21 days in July. When and where you chose to do it is completely up to you!
What's the date of the event?
The challenge officially starts on Wednesday 1 July 2020 and will end on Friday 31 July 2020. Sign up now, start your training and fundraising, and encourage others to join the challenge too.
Is there a registration fee?
Nope, this event is FREE to anyone to take part! It would be amazing if you took the opportunity to help raise money for Samaritans. All the money you raise will help us reach more people who need our support. 
What is the deadline to register for Samarathon?
We will be closing Samarathon registration on Thursday 16th July at midnight.
Will coronavirus affect Samarathon?
We appreciate that it's an uncertain time right now. Your health, and that of your loved ones, is the top priority. We are closely monitoring the COVID-19 situation and following advice from Public Health England and Health Protection Scotland.
Now more than ever, getting out for some exercise is crucial for everyone's mental wellbeing and Samarathon is the perfect goal.
Samarathon is a personal challenge that you can complete by yourself, in your own time throughout July, but it's also the perfect opportunity to connect with others. Sign up as a team and head outside with members of your household, or join up virtually with family, friends or work mates. Track your mileage and your fundraising progress on your Samarathon fundraising page and share with everyone you know so they can support your achievements.
Your participation comes at an unprecedented time, so your support will help us be there for everyone who needs someone to listen. 
What is Everydayhero and how do I use it?
Everydayhero is an online fundraising platform, with a different – it makes it easy for you to record the miles you cover and fundraise! Once you sign up for Samarathon, an Everydayhero page will automatically be set up for you. 
You can then personalise your page and share with friends and family to let them know what an incredible challenge you are taking on for Samaritans. 
At the end of the challenge, any sponsorship money received via your online page will come straight to Samaritans, saving time and effort for you! 
Can I take part in Samarathon as a member of a team?
Yes, absolutely! Once you have signed up and created your personal Everydayhero page, you can then create a Samarathon team page too.
When your friends, family or colleagues sign up to take part in Samarathon, they can join your team during the registration process. For more information about how to set up your Samarathon team online, please head here. Please note that when you register as a team, it refers to a payment- please ignore this standard text which does not apply to Samarathon. Please carry on and create your team without payment.
Don't forget, you need to have registered to take part in Samarathon before you can join or create a team page. 
Is there an age limit for taking part in Samarathon?
No. You can take part if you're 10 or 110! But, if you're under 16 you will need a parent or guardian to sign you up toSamarathonor email events@samaritans.org with permission from your parent or guardian.
Can I track mileage on my Everydayhero page using a fitness tracker?
Yes, you can track your distance using MapMyFitness, Strava, and FitBit and link it to your Everydayhero page is to ensure your mileage is automatically recorded and added to your page. 
Please click on the links above to watch the videos of how to do this. 
If you don't use either of these apps (or forget to use them while you're out and about!) you can manually add the mileage to your page later on. 
Do I have to be super-fit or a regular runner to take part in Samarathon?
Absolutely not! This is your marathon, so you can do it any which way you like. If you want to jog or walk it, that's just fine. And if you're a wheelchair user, you can still complete thefull26.2mile distance in a way that is a challenge for you.
How can I switch it up if I did Samarathon last year?
If you took part last year, we would love to see you take part again. However, you may want to change it up. You could add hills into each run, challenge your friends, add landmarks to your route or make it extra clever by adding fancy dress, or even hula hoopyour26.2 miles! This is your challenge, so you can do it your own way. 
If I take part in other forms of exercise (such as cycling or team sports) will the steps I take doing these counts towards my Samarathon total?
The goal is to cover 26.2 miles in a month on foot or in a wheelchair, but if you would prefer to do multiple marathons on your bike or even on horseback, well this is your challenge, we're happy for you to do it your way!
How can I find friends on Everydayhero, who are also taking part in Samarathon?
Head to www.everydayhero.com/uk and click on the tab 'Find a Friend' and type in the name of the person you are looking for. 
Can I invite other people to join my Samarathon team?
Once you have set up a team, you're automatically made the Team Leader, which means you can invite people to join. On your page you will be able to invite whoever you want (if they have their own page set up).
What should I do if I complete the challenge before the end of July?
You can keep going! If you have reached your 26.2 miles target, why not do more than a marathon, and set a new target. Round it up to 30 miles or even double it!
What promotional materials are available to help me publicise my challenge?
Please check out our fundraising help page, which has some great downloadable images to help you promote your challenge. If there is anything you'd like that isn't downloadable please email events@samaritans.org
Who can I speak to if I need more information?
What happens at the end of my challenge?
When you have finished your challenge, let everyone who has sponsored you know that you've completed your marathon, and send them a big 'Thank You' for their support.  
Check out the milestone badges that you can download and add to your fundraising page, or to social media posts to celebrate. Click here to show off your achievements! 
How can I contact other participants taking part in the challenge?
Join ourSamarathongroup on Facebook and keep up to date with all the latest running and walking chat! Simply search 'Samarathon Facebook group' in Facebook and request to join. Soon you'll be sharing stories with our other participants in this year's challenge!
What are the fees associated with setting up an everyday hero page?
To setup an everyday hero page there is no cost involved - this is completely free! The only cost of using the platform for charities is a small 4.25% per transaction processing fee plus credit card fees of 1.6% for Visa and MasterCard and American Express (2.8%) - this will be charged on every donation made to your page.
When a donor makes a donation on a fundraising page they have the option to top up their donation to cover the transaction fee. For example, if a donor makes a £10 donation to a page this will then add the transaction fee of 0.65 making the total donation amount £10.65.
£10 will then be transferred to the charities bank account instead of £9.35 that it would have been if they did not opt to cover the fees included.
Fundraising information
What is the fundraising target?
We only ask that you raise as much as you're able. However, if you raise £150 or more, not only could that fund over 30 calls for help, or support the cost of training three Samaritans volunteers for a year, but we'll also enter you into our free prize draw to win some selected sporting goodies! Please note, the suggested target is for individuals taking part – your team target is separate and can be as big and as bold as you want it to be!
Gift Aid is a government run scheme that allows charities to reclaim some of the tax that you have already paid to HMRC. Currently, this is equal to 25p for every £1 that you give. 
Gift Aid does not cost you any extra and can make your donation worth an extra 25% to us, so it is a fantastic way of ensuring your donations go as far as they possibly can. 
How can I ensure I reach my fundraising target?
When you register to take part in Samarathon, an online fundraising page is automatically created for you. There are a few key things you can do to make the most of your fundraising page, including: 
Uploading a photo: This is a great way of personalising your page. You can upload more than one, so why not add photos as way of telling your fundraising story and sharing your progress. 
Setting a target: Doing this is a such a great motivator for yourself. It will also encourage others to help you reach your goal and who knows – you might even beat it! 
Sharing your story: Tell your supporters why you are taking part in Samarathon and what a difference their donations will make to Samaritans, and to the people we support 
Promoting your page: Email a page link to your friends/family and if you're online, share it on social media. This is such a great way to raise awareness of your challenges and kick start your fundraising. 
Keeping everyone updated: Try to share regular updates and progress pics on your page. Your supporters will enjoy sharing your journey with you and want to know how you're getting on. 
 For more help, take a look at our fundraising tools. 
How do I submit money that has been raised offline?
Pay in online: https://www.samaritans.org/donate/pay-in
Pay in by cheque: Send a cheque made payable to Samaritans to:
Samaritans, The Upper Mill, Kingston Road, Ewell, KT17 2AF. Remember to include your name and address details so we can thank you. 
Pay in by BACS: Contact us directly and we will provide you with our bank details. You'll be given a unique reference, so we can track your donation. 
Pay by phone: To make a donation over the phone, call our Supporter Care team on 03709 00 00 32. 
As a charity, our ambition is to ensure fewer people die by suicide. Every 6 seconds, Samaritans responds to a call for help and your fundraising will help us answer more of these calls. 
Together the 1750 people who took part in Samarathon 2019 helped raise more than £123,000. This year we're hoping to raise over £150,000 and with your help, we'll do it! 
For every £1 donated to Samaritans and its branches in the UK and Ireland, 85p goes on our services and just 15p is invested in raising the next £1. 
I'm not based in the UK, can I still take part and fundraise for Samaritans?
Yes, you can! Please note that because this challenge was set up in the UK, your fundraising page will display your fundraising total in British pounds, but donations from outside of the UK will still be processed as normal.   
Fundraising Information
Is there a deadline to complete the fundraising?
All Everyday Hero fundraising pages will be closing on the 30th September. After this date, you will no longer be able to receive anymore donations on your page.
Samaritans branch fundraising
Can I sign up to Samarathon to fundraise for my local branch of Samaritans?
Yes, you can! When you register, simply let us know which Samaritans branch you volunteer with/are a supporter of (there will be a drop-down list of branch names to pick from) and at the end of the challenge we will transfer all the money you raise (minus Everydayhero's transaction fees) direct to the branch bank account.     
We are unable to change where the funds are allocated once you have completed your registration. 
Whether you chose to fundraise for a local branch or the whole of Samaritans, all the money raised supports Samaritans to be there for anyone struggling to cope, right across the UK and Republic of Ireland. 
When will my branch receive the money I raise?
The funds will be transferred in one lump sum to each branch, including Gift Aid but minus Everydayhero transaction fees, within two months of the Everydayhero pages closing.  Pages will close in October. Branch Directors and/or treasurers will be notified of the total raised for their branch in advance of the payment. Please bear with us this is a manual process.
Can I set up or join a Samaritans branch Samarathon team?
Yes, we'd love to see lots of Samaritans branches represented in 2020! 
When you register for Samarathon you'll be prompted to 'Create' or 'Join' a team. We recommend you try to join one first to see if anyone else has created a team for your branch. If not select 'Create' to get a team started, then let everyone know it's set up. Together everyone can contribute to your branch fundraising total and support each other through the challenge. 
For more information about how to set up your Samarathon team on Everydayhero, please head here. Don't forget, you need to sign up to Samarathon before you can join or create a branch/regional team page! 
What's the best way to let other volunteers in my branch know that I'm taking on Samarathon?
The best way is to share your fundraising page with volunteers and add an email banner on your email signature. Can the team page be promoted to everyone in the branch via Three Rings or other rota system?